Take the Confidence Code Quiz
What's your level of confidence?
The Confidence Code Quiz is a series of questions that assesses how you deal with self-doubt and your ability to act. When considering your own self-confidence, you probably think about how you feel. What you should be considering is how you act. The confidence gap becomes apparent at the point where men and women are faced with doubt and must choose how to respond.
Doubt causes men to act.
Doubt causes women to pause.
How do you respond?
It takes 5 minutes to assess your confidence. Learn where you stand so you can begin to build and improve this scalable skill and finally take action to own your success.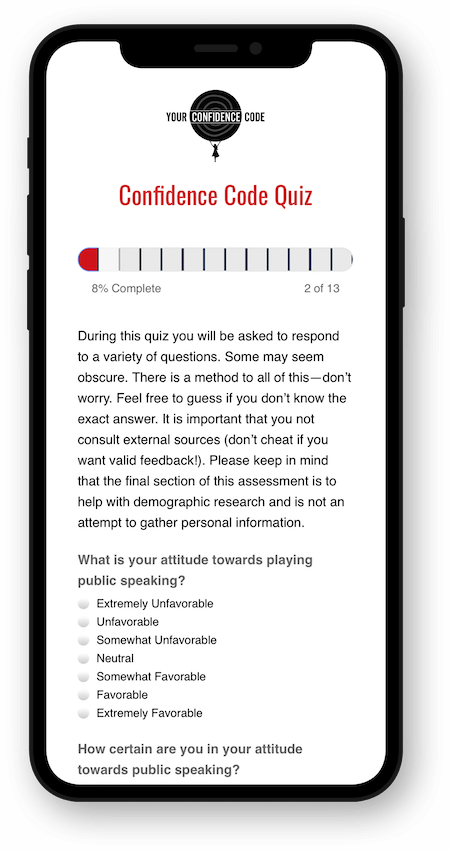 HAVE YOU EVER WONDERED…?
✔ If your aversion to risk is holding you back?
✔ If perfectionism is crippling you from moving forward?
✔ If fear of failure is keeping you from rewards and promotions?
✔ If negative thoughts are unknowingly causing you to dwell?
✔ If worrying about other people's opinions is keeping you from speaking up?
✔ If self-doubt is preventing you from achieving success?
Find out now if you need to take action and improve your self confidence.
ABOUT THE QUIZ
The first survey of its kind, the Confidence Quiz is a sophisticated assessment that is based on a variety of existing psychological surveys, and critical new questions to broadly measure confidence in women.
It was originally created with the help of Dr. Richard Petty, of The Ohio State University, Dr. Kenneth DeMarree of the University at Buffalo, and Dr. Pablo Briñol at Universidad Autónoma de Madrid.
Over 200,000 + (and counting) have taken the Confidence Quiz.
ABOUT THE AUTHORS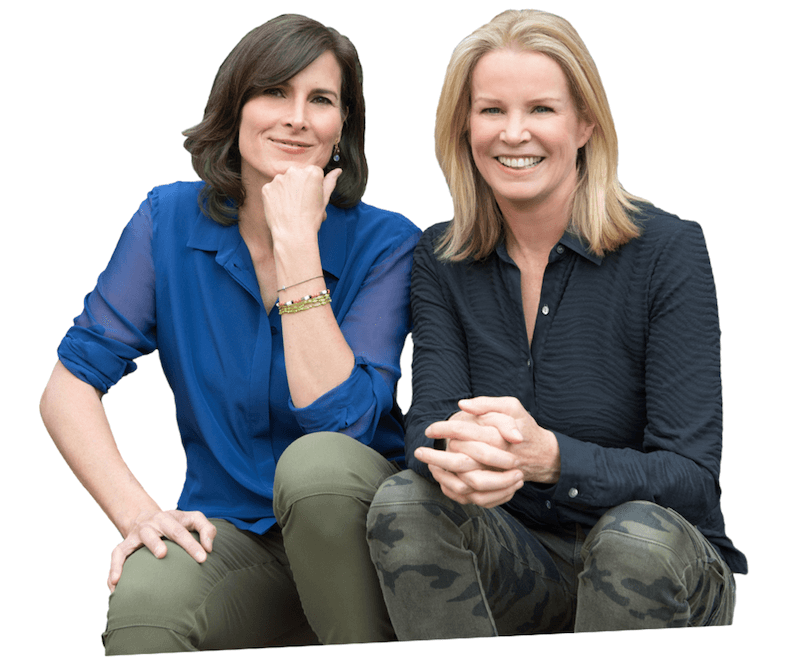 Claire Shipman and Katty Kay are both veteran journalists based in Washington DC, with history-making moments in their multi-decade careers. Both women have covered the White House extensively, reported on multiple presidential elections, the Trump and Clinton administrations, financial collapses, and the wars in Kosovo, Afghanistan and Iraq. Advocates for change when it comes to issues vital to women, and developing a much needed confidence movement for women of all ages—Claire and Katty are moving the needle with the work they both do as authors, public speakers, moms, wives and thought leaders. Together, they have authored three highly successful books including the New York Times bestselling books The Confidence Code and The Confidence Code For Girls.
Katty is anchor of the award-winning "BBC World News America" program and highly respected for the work she does traveling the world reporting on American politics, economics, and global affairs. She's also a frequent contributor to "Meet the Press" and "Morning Joe".
Katty arrived at the Pentagon just twenty minutes after a hijacked plane flew into the building on 9/11, and interviewed shaken soldiers as the story unfolded in real-time. She studied modern languages at Oxford and speaks fluent French and Italian with some "rusty Japanese".
Claire covered the White House for NBC News and CNN and worked as a regular contributor to Good Morning America and ABC News. Her coverage on the ground in Moscow during the fall of the Soviet Union garnered a Peabody Award for CNN, and her coverage of the 1989 Tiananmen Square student uprising received a DuPont Award and an Emmy.
Claire studied Russian and earned a master's degree from the School of International Affairs at Columbia College. She witnessed the fall of the Soviet Union, reporting on the ground and in person, as citizens swarmed the streets and took down statues of unwelcome communist leaders.